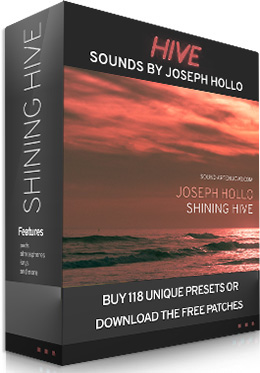 118 presets sound bank
for U-he HIVE

Let the Hive shine, Let the Hive shine in...

Since working on the factory library of the updated Hive 1.2, Joseph was excited to watch this lovely synth became a real top-dog, yet easy to use VSTi.

And with the newly added wavetable capability Joseph could discover limitless colors and moods for your new audio project.
Let us introduce Shining Hive sound bank with 118 brand new patches. From evolving pads to basses, leads and sequences it became a real all-rounder. Using only these 118 patches, you could be able to finish your arrangement from the beginning to the end.
The categories are: Ambient, Arpeggiated, Bass, Bells, BPM synced rhythmic, Drums, Fx, Keys,
Leads, Pads, Plucked, Sequences and Synths. All of them comes with the usual high musical quality from Joseph.
The assigned controllers with all the possible variations almost doubles the number of the patches, all of them are tagged and you can find usage tips in the info field.
Also included: 3 Cubase project files, MIDI files and documentation.
If you would like to try it, start with downloading the free patches! Some free presets from Joseph can also be found in the Hive's factory bank. Names are starting with JH....The free bank is also containing the used wavetables and a Cubase or Midi file. If you prefer high quality demos, download our demos in mp3 format (44.1kHz, 320Kbps)