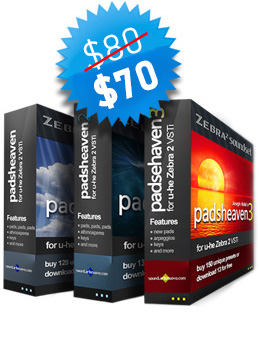 411 presets sound bank
for U-HE ZEBRA2 VSTi

Padsheaven Trilogy 1+2+3

the complete series of the successful Padsheaven by Joseph Hollo
Now you can buy three patch collections with 20% discount! The successful Padsheaven Ttrilogy would be a great part of you preset collection for Zebra 2.
In this bundle you can find all the beauty pads, which you can use in almost all styles from classical pop/rock ballads to moviescores or even in the most up to date compositions.
3 collections, 411 presets for u-he Zebra 2!