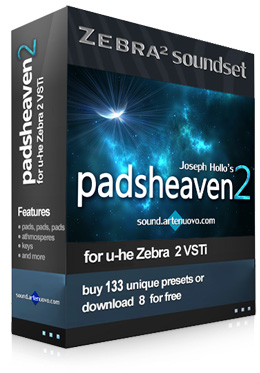 133 presets sound bank
for U-HE ZEBRA2 VSTi

Padsheaven 2 by Joseph Hollo

The continuation of the successful padsheaven, a fresh collection of lyrical, dramatic pads, effects and soundscapes and musch more from a multiple golden and platinum record owner composer.
Like the first version, you can use them in almos all styles from classical pop/rock ballads to moviescores or even in the most up to date compositions.
If you would like to try it, start with downloading the 8 free patches!
If you prefer high quality demos, download our demos in wave format (44.1kHz, 16bits)