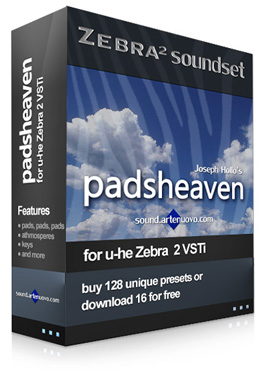 128 presets sound bank
for U-HE ZEBRA2 VSTi

The "legendary" Padsheaven by Joseph Hollo

An ultimate collection of useful lyrical and dramatic pads, effects and soundscapes from a multiple golden and platinum record owner composer.
You can use them in almost all styles from classical pop/rock ballads to moviescores or even in the most up to date electronic music compositions.

If you would like to try it, start with downloading the 16 free patches!
If you prefer high quality demos, download our demos in wave format (44.1kHz, 16bits)